Residential Solar Panel Projects
Solar Electric and Water Heating
Residential Solar Benefits
A solar energy system is a wonderful feature for your home, and adds value to your property as a direct increased market value. Solar energy production reduces your home's utility bills; the value of future energy savings by way of on-site electricity generation is money saved while also reducing your carbon footprint. If you wish to sell your home, solar energy is an attractive feature for perspective buyers.
A Solar System can lower your electric bill by as much as 50% or more. Oregon utility incentives and a federal tax credit can offset your upfront cost by about 40%, while the remainder of your system cost is paid off by energy savings.
When you invest in a Solar system, you are investing in a long term benefit. Advanced Energy Systems designs systems for a life expectancy of 35 years or more!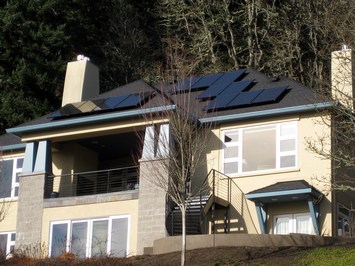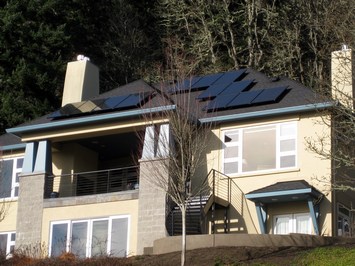 Our Approach to Residential Solar – Be a good neighbor
At Advanced Energy Systems we pride ourselves on being a local community partner. What we offer is the personal one to one approach to your renewable energy needs. Our residential specialists will be glad to answer any questions on the phone, and schedule a personal site visit free of charge. We personalize each estimate based on the information gathered in the site survey, maximizing the energy offset with available incentives, and of course your budget.We are experts at navigating the various incentives, and utility rebates, and offer a comprehensive system installation warranty. We also pride ourselves on local and statewide sources of materials, including SolarWorld modules, made in Hillsboro, Oregon.