Kendall Toyota – Eugene Oregon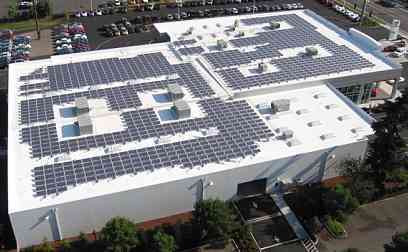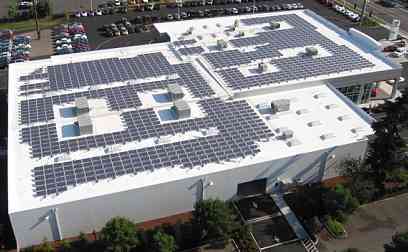 Project Description
Kendall Toyota of Eugene opened the first auto dealership on the West Coast to achieve LEED gold certification for green building standards on July 1st. The building will feature a 202 KW photovoltaic system designed and installed by Advanced Energy Systems.
We are aware that 40 percent of the world's total energy use, 25 percent of the wood harvest and 16 percent of water consumption are tied up in buildings alone says Paul Skillern, Kendall Toyota owner. It was important to us to do everything in our power to lessen our environmental impact.As the first Leadership in Energy and Environmental Design Gold-rated dealership on the West Coast, and only the second in the United States, Kendall Toyota hopes to reduce its water usage by 50 percent and to generate 30 percent of its own energy. Recycled and on-site materials were used as much as possible during the construction phase.
Paul Skillern, owner of Kendall Automotive Group announced the building's impressive environmental credentials during a press conference. I am here to tell you… you are standing in front of one of the most energy efficient car dealerships in the world.
The photovoltaic panels will generate enough electricity to power about 16 average homes yearly in Lane County Oregon.
Project Details
Client Kendall Toyota
Skills Solar Electric