Commercial Solar Energy Projects
Solar Electric and Water Heating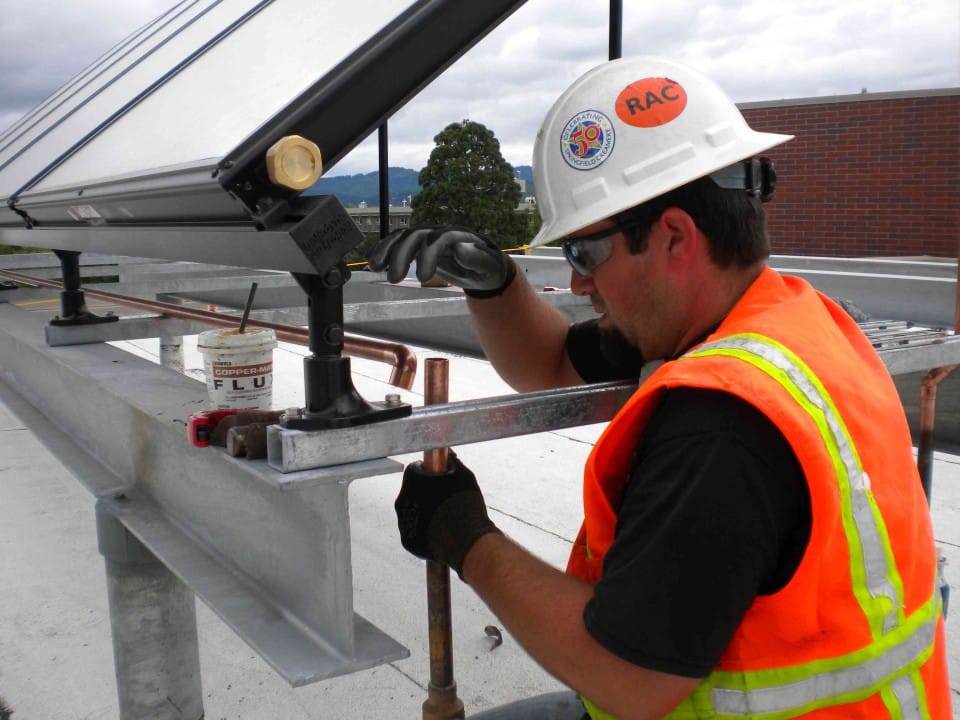 Design & Installation
Advanced Energy Systems is the recognized leader in commercial solar energy system design and installation in Oregon. Our design team looks at all aspects of the project before recommending a solar solution. We employ our own design staff that have vast experience in the field. This allows us to craft a solar facility that functions at peak efficiency, while considering the aesthetics and the visual aspect of the design. Advanced Energy Systems utilizes it's own installation crew, and is proud to employ the most experienced field supervisor in Oregon and possibly the Northwest, Paul Vermilyea. Our supervising Electrician, Ken DenOuden can produce 1-line drawings in house, and has a vast project management resume. Ask around, when it comes to a single source for installation and design, Advanced Energy Systems is the recognized expert.
Energy Trust of Oregon Trade Ally
Advanced Energy Systems is a proud Trade Ally of the Energy Trust of Oregon. As a Trade ally contractor we receive training and support from Energy Trust, and can complete and submit your cash incentive applications. Energy Trust contractors like AES offer energy-efficiency and renewable energy services and products to help you produce and use energy wisely. Energy Trust encourages you to refer to the network of licensed and insured independent contractors like AES. They are up-to-date on the latest Energy Trust standards, quality control requirements and incentives. For more information from Advanced Energy Systems about Energy Trust services and available cash incentives, please contact us.
<iframe src="https://www.google.com/maps/d/u/0/embed?mid=zzDzZvY8ABJ0.k1d34kdww_Hs" width="1920" height="480"></iframe>