Lanphier Associates, Inc PV Project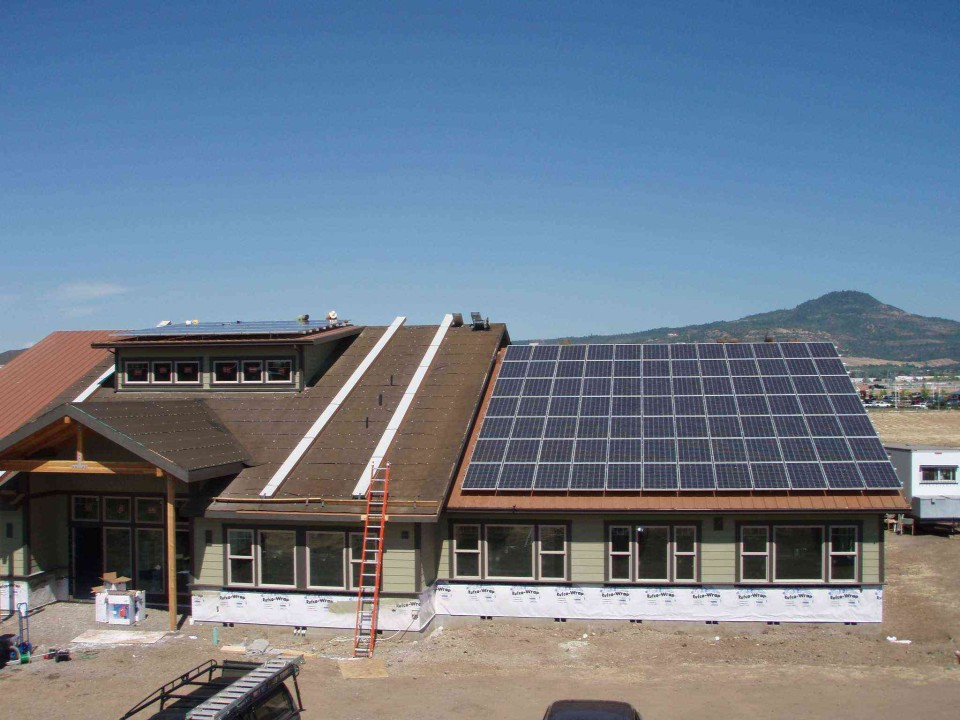 Project Description
Lanphier Associates, Inc of Medford, Oregon unveils 21.3 kilowatt solar electric system. 
Tax credits, incentives, utility agreements make southern Oregon's latest commercial solar array a reality.
Medford, Ore.—June 22, 2007— It all started when Lee Lanphier attended a forum where energy efficient technologies were discussed. Now, nearing completion is a solar array that will generate more than half of the energy that his company will use over the course of a year.
It was a combination of tax credits, financial incentives, attractive loan terms — and the prospect of slashing their electric bills — that attracted Lee's partner Rick Moir to solar energy. "The tax benefits for installing a solar electric system are substantial and the prospect of saving on the cost of the electricity we need is appealing," said Moir, managing partner of Lanphier Associates, Inc. "I don't know why more businesses aren't taking advantage of this. It makes financial sense and it's the right thing to do."
Lanphier Associates, Inc is a privately held marketing and advertising company that has been doing business in Medford for more than 20 years. Currently there are 13 employees employed by the company.
The package of incentives and tax credits that closed the deal for the Lanphier and Moir included nearly $27,000 in financial incentives from Energy Trust of Oregon, $61,600 in Business Energy Tax Credits from the Oregon Department of Energy, a $53,200 Federal Tax Credit, an accelerated state and federal tax depreciation schedule and a unique financing package from the Bank of the Cascades.
This 21.3 kilowatt system features 112 Evergreen photovoltaic panels and 4 SMA inverters, and will start generating power in September. The system is net-metered, so that excess power generated by the system flows back to the local electricity grid for a credit on Lanphier's bill from Pacific Power.
"Advanced Energy Systems (AES) has designed the majority of the commercial PV systems in Oregon, including the largest building integrated system for Pepsi-Cola in Klamath Falls," said David Parker, President of AES, whose company designed and installed Lanphier's system with Reece Electric. "This is the best technology available today to generate clean, renewable solar electricity for the next 35 years with minimal maintenance.  We have created a solar project that will generate more than half of the electricity Lanphier Associates needs during the summer months, and 20% on an annual basis, to run its operations in Jackson County."
As a condition of the contract with Energy Trust and the State of Oregon, all solar electric systems receiving incentives and tax credits must be connected to the local utility grid.
Project Partners:
Reece Electric
Project Details
Client Lanphier Associates, Inc PV Project Skills Solar Electric