Market of Choice – Eugene Oregon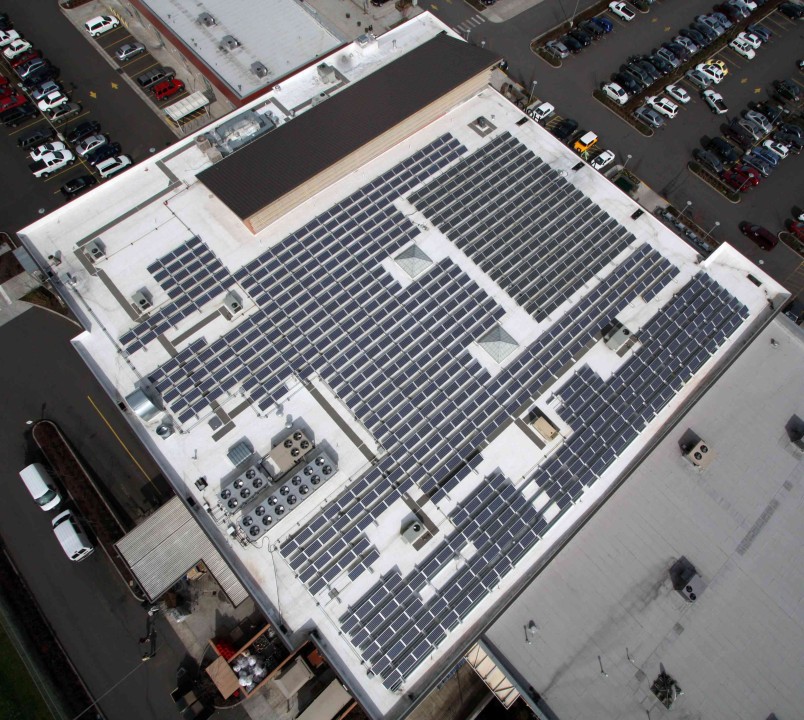 Project Description
We had a huge flat roof, so we decided to tap into the suns energy for all the stores lights. We want our building to showcase sustainable practices that minimize environmental impacts. That visibility also serves to educate people about whats possible." – Rick Wright, President of Market of Choice.
In Fall of 2008 Market of Choice completed the second phase of their array, adding an additional 100 KW to the store on 29th and Willamette. With this addition the total system size is over 130 KW. In the course of the system's life (35 years), the array will generate enough electricity to offset 3,439 tons of CO2, 10,316 trees, 355,305 gallons of gasoline, or 25 acres of forest.*
In December of 2006 Market of Choice installed a 31 KW Solar Electric System. The System features 176 Sharp 175 watt mono-crystalline modules. These modules form 16 rows of 11 modules. The modules are mounted at 20° on a custom non-penetrating Sun-Link rack system. The PV arrays are routed through combiners to a 30 KW Satcon inverter. The inverter is monitored via a web based monitoring system.
Project Details
Client Market of Choice Skills Solar Electric